About This Fundraiser
Japan is often considered a burial ground for missions. It is tough and challenging. We need fresh ideas, people able to build deep relationships and commit to staying the course no matter how few results they see. Most Japanese people have never met a Christian, seen a Bible, or even know about Jesus. In fact, less than 1 percent of Japan's 126 million people claim to be Christians.There is a great need to encourage and mobilize young Christians to be involved in ministry. Please pray and support the Church in Japan!
Recent Supporters
No public contributions have been made to this fundraiser.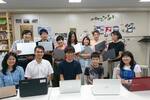 Our vision as LINK is to reach the next generation for Jesus Christ and, by doing so, support and encourage the local Japanese church. Our ministry is focused primarily, but not exclusively, on young adults, in their 20s and 30s. We desire to function as 'links' to bring churches, young adult Christians and non-Christian young adults in the Tokyo area together.

Your donation will enable us to rent space in Tokyo, which is not cheap. We rent a room in central Tokyo to use as a ministry base, to fellowship and hold small events, like bible studies and prayer groups, but also help young Christians to learn skills they can use to help their churches. We startet all kinds of workshops, like designing flyers and web pages, helping with translation during services and others are in planning.
Usually, we would expect the national church to support ministries like this, but the church in Japan is still weak and needs help from the international church.
For more information visit our web site omf-link.tokyo.