November 2021 Prayer Letter
November 5, 2021
Dear friends and family,
I made it safely back to Maha Sarakham the beginning of September after 2 weeks of hotel quarantine in Bangkok. Thank you for your prayers during my quarantine. It was actually quite restful so that I was better prepared to come back to deal with a house with termites! I think I have that under control now as the rainy season comes to an end and we begin the "cold" season soon (I hope!).
Here is a snapshot of what has been going on:
Bible Discussion Groups online. The number of covid cases has been declining but it looks like the new term, which starts November 15, will again be online for the foreseeable future. We will continue to do Zoom Bible discussion groups with students through November. At this point, we plan to open the student center in December to small groups of students who are in town while also doing Zoom groups for those who are not in town.
Community Outreach. Starting in April, much of Thailand entered a lockdown and our community cell group at the student center also closed down. In October, we began a community outreach near the student center. We have been delivering 10-12 packages of food and supplies to families impacted by the recent economic downturn. Each week different families receive food, hear a story from the Bible and we pray over them. We plan to continue this through December, ending with a community Christmas party on December 25. After that, we are praying that there will be some that are interested to learn more about Jesus on a weekly basis and we can start a small cell group to teach them more about Jesus.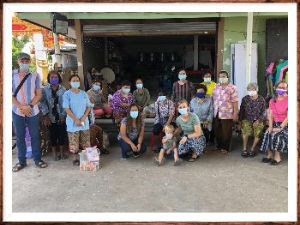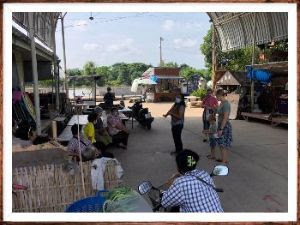 A weekend with new believer Honey and her family. I have told you previously about Honey, a Pharmacy student who came to faith this past year. She invited Arnie and me to spend the weekend with her family in a province 3 hours away. We had a great time with Honey, her roommate Aum Im, her mother and two sisters. It was great to learn more about her family and experience life in a Thai family from NE Thailand (called Isaan). At dinner Saturday night, Arnie was able to tell the story of the prodigal son and share the gospel with them. We had a great discussion at the table and pray that God spoke to their hearts.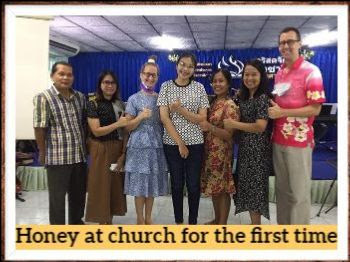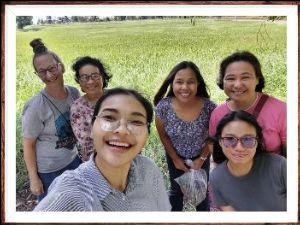 As I enter my 7th Thanksgiving season in Thailand, I am grateful that the Lord has given me the strength to persevere here where we have very few believers, let alone new believers. When I think about disciples being made and Thai churches planted, it seems overwhelming and impossible. I came across this prayer and thought I would share it with you so that we can all make it our prayer as we serve the Lord where we are!
Teach us, good Lord, to serve Thee as Thou deservest; To give, and not count the cost; To fight, and not to heed the wounds; To toil and not to seek for rest; To labour and not to ask for any reward save that of knowing that we do Thy will. - Ignatius of Loyola
Happy Thanksgiving to you all! I would love to hear how you are doing so feel free to email me.
Blessings, Amy Cottle